Injinji Sport Original Weight MC White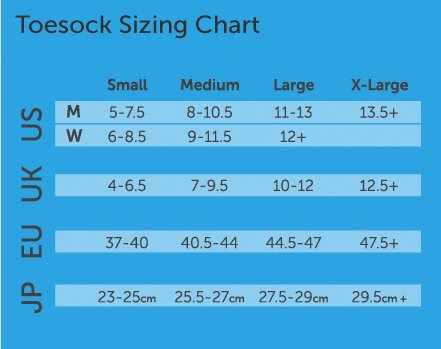 The Sport Original Weight Mini-Crew. the sock that started with Injinji. And this sock has proven itself amply! Optimal comfort. excellent protection against blisters. these Injinji toe socks separate the toes by a thin one. breathable yarn construction. Little volume. many advantages! With a double collar. making the sock stay perfectly in place. and improved arch support. This sock is indispensable for during your everyday fitness workout or run or during daily life.
Details
Material: 86% Coolmax, 12% Nylon, 2% lycra
CoolMax fabric is a specially designed polyester to not only provide good moisture management, but also to improve comfort.
Size S: Shoe size 37 - 40
Size M: Shoe size 40.5 - 44
Size L: Shoe size 44.5 - 47
Size XL: Shoe size 47.5+